Team principles … is it worth the effort?
---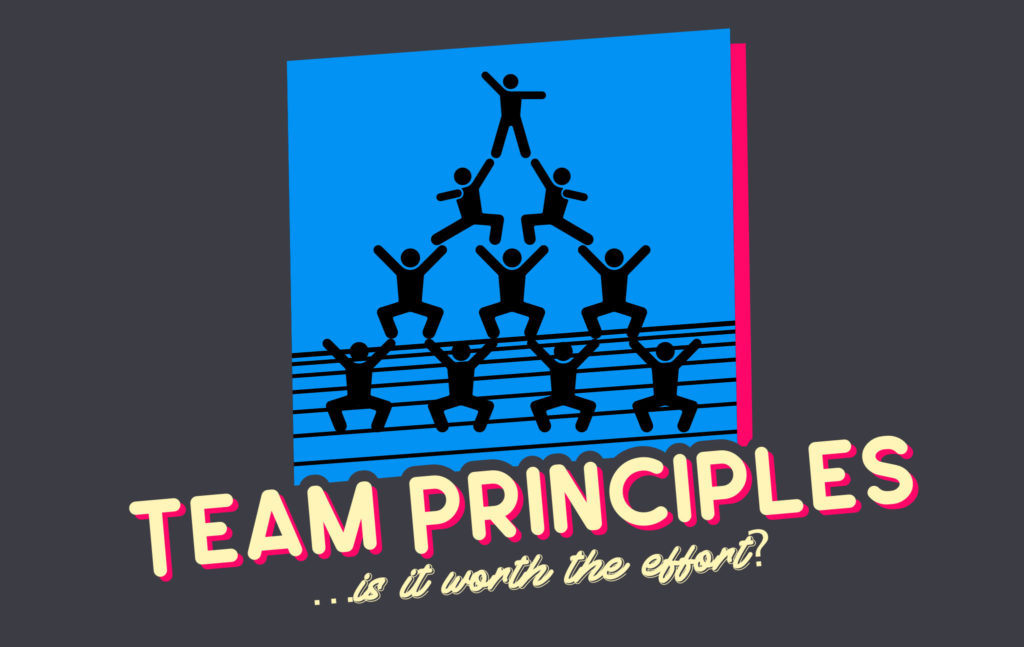 Company Principles
The tech companies, specially the big ones, spend lots of money on developing their brand, identity, mission, vision and of course, their principles!
Those principles are cascaded down to the employees so that they can share the company's mission through a series of fundamental propositions (that are the foundation of the company itself).
My current company, Adevinta, has developed the following mission «Creating perfect matches on the world's most trusted marketplaces». Those marketplaces are second hand trading websites so my company mission relates to the principle of waste less, so our users will consume less hence the company will help our environment and our planet. That is cool, I relate to that!
My company define a set of principles
* Recycling
* Less waste
* Eco friendly
* Energy saver
* …
I wonder how those principles relate to myself and also to my team. We are currently developing one of the key products in our users' journey through our marketplaces: Messaging.
Messaging allows our users to exchange messages and more. We send hundreds of thousands of notifications, texts, pics and files everyday that allow people to get in touch and buy and/or exchange their items.
I wonder, are those company principles related to the mission of my team? Is my team members' daily life (engineers developing APIS or apps) somehow linked to those principles?
Of course they like the final purpose of the organisation they work in, but those principles do not reflect what they actually do. They need to find their own identity and voice that help them to define how they are contributing to the company's final purpose.
How do I define my team principles? A TEAM WORKSHOP!
It's time for me to gather the whole team and work together defining our team principles and our identity inside the company. Find below what we covered in the workshop.
Kick off: bring back my mission!
   A. The company mission
   B. Our product/project mission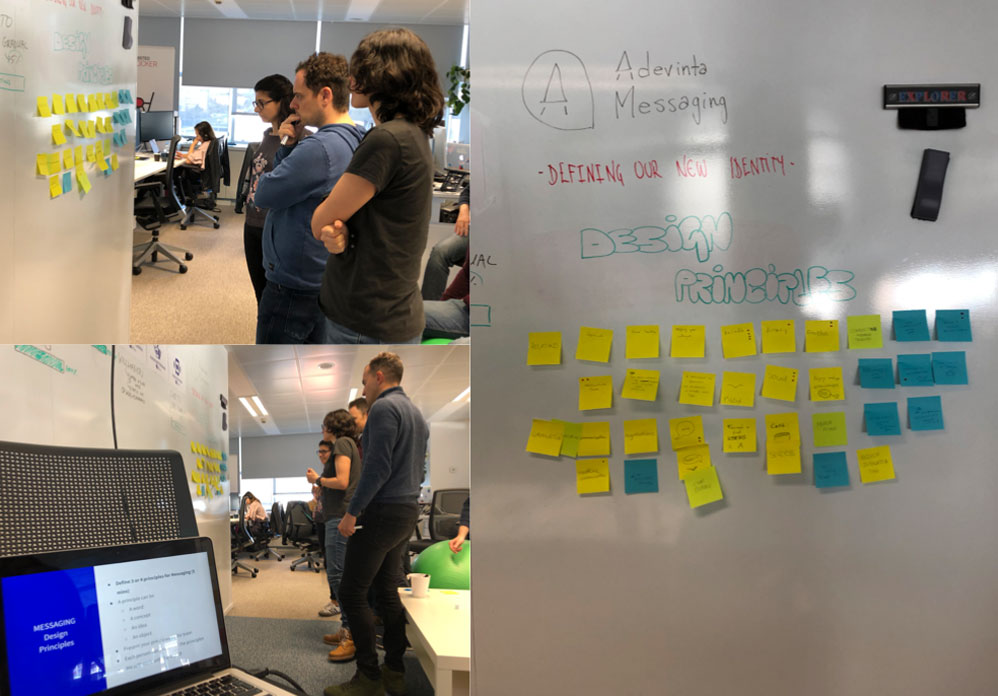 Defining our principles: who we are
Everybody (for this workshop I gather 10 participants) gets to define 3 or 4 principles for Messaging (a word, a concept, an object...). They will vote and select their favorites.


Getting our top 10 principles
   * RELIABLE
   * SOCIAL
   * CHAT BUBBLE
   * ENABLER
   * MULTICULTURAL TEAM
   * FRIENDLY
   * REAL TIME
   * BUILDING A BRIDGE BETWEEN PEOPLE
   * COMMUNICATION
   * MEANINGFUL CONVERSATIONS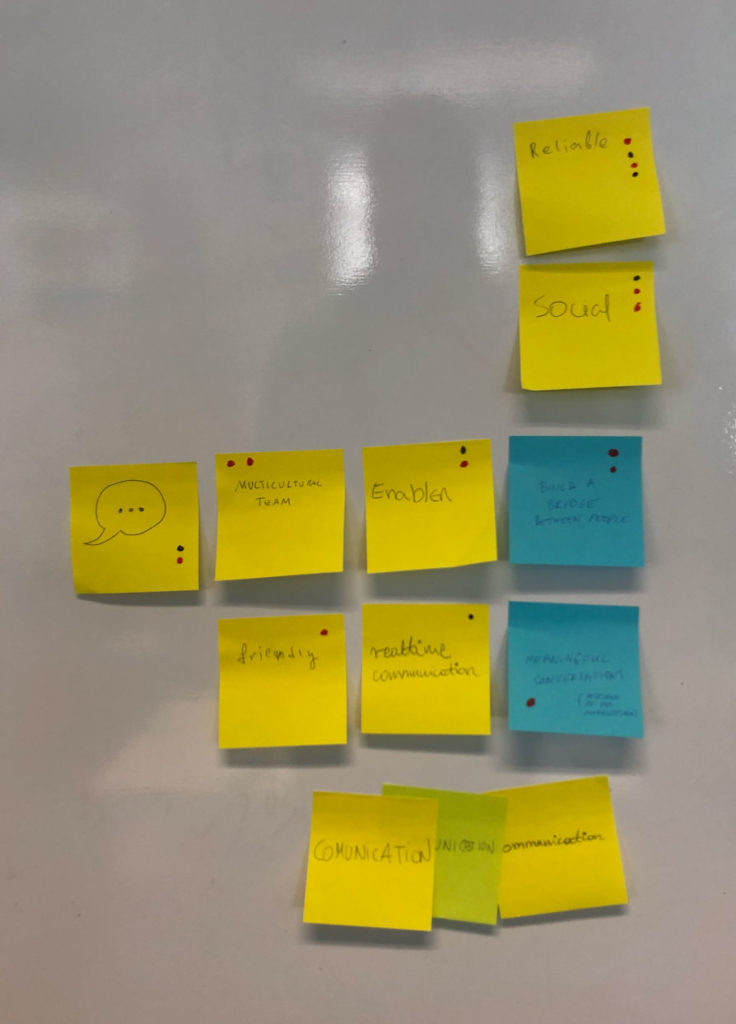 Finding our inner animal
Once we have our team principles, we need a logo that represents each and everyone. Due to corporate reasons, in this case, this logo needs to be an animal to match our team branding ecosystem.
I divide all the participants in three groups that will find an animal that matches most of the principles. 
Once they have chosen their animals they will pitch it to the rest of the participants and finally everybody will vote for their favourite.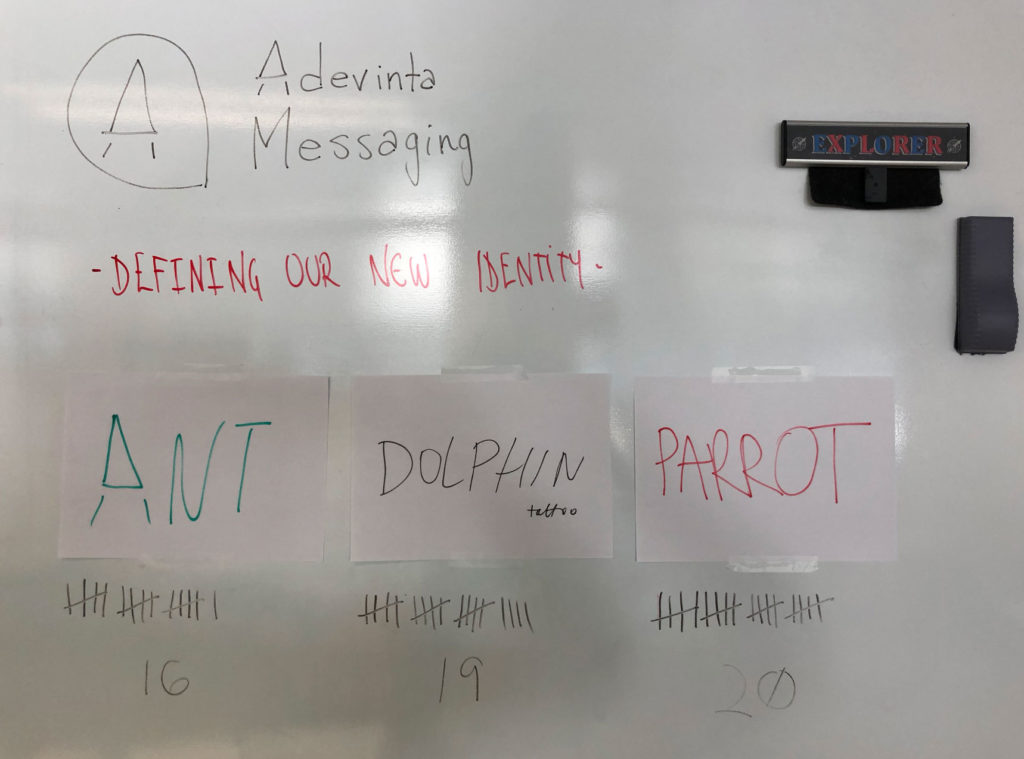 Follow up : WE ARE A PARROT!
To keep the momentum I need to share the results of this workshop with everybody and communicate what are the next steps: I will create a logo based on our new principles with the shape of a Parrot!


Conclusion
We need company principles that represents us inside a company as individuals, but most importantly we need principles that really link us to our everyday team. By being part of the PARROT team we feel that we belong. So when now they ask to any team member «why a parrot?», we can reply by sharing our principles. Was it worth it? 100% yes! Do all my team members got stickers for them, their laptops, phones, colleagues, partners, cousins…? Of course!